Skin booster mySkin Mallorca
The signs of time cannot be slowed down or reversed – or maybe they can? Over time, the skin loses its elasticity. We produce less sebum, which contributes to dehydration. In addition, hyaluronic acid and elastin are lost from our tissues, causing wrinkles and sagging, tired skin. Anti-wrinkle creams, moisturisers and superficially applied boosters may reduce some imperfections on the surface. But deep down, your skin continues to age, and as soon as you stop using creams & co. for a few days, all the signs of ageing return.
With skin boosters like Juvederm Volite® and Redensity1®, we can make a lasting difference to the health of your skin. Unlike traditional beauty products, we treat the cause of ageing, not just hide it. Not only will you look years younger, but your skin will recover and stay that way without creams!
Skin booster are perfect for: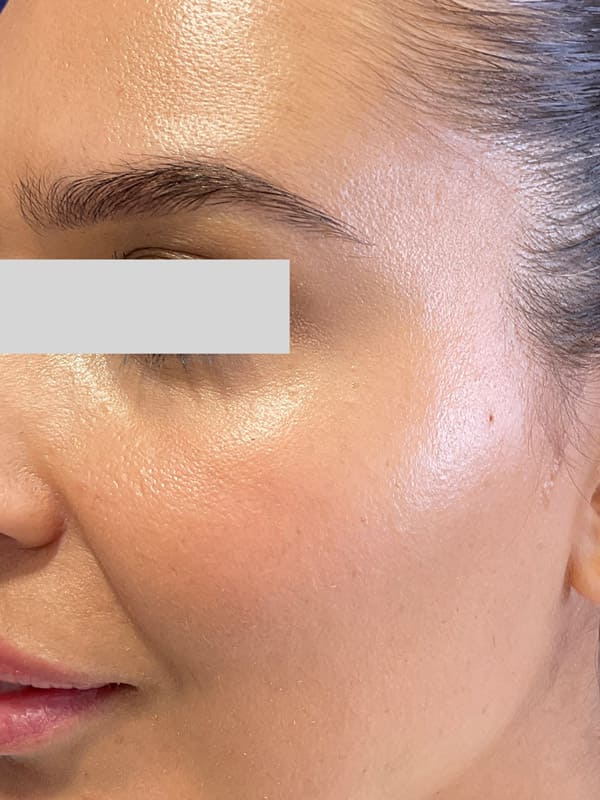 The whole face
Our skin boosters are suitable for use on the entire face, including the eye and lip areas. The slight plumping effect is particularly appreciated by our patients in the lip area. A lip treatment with the Skinbooster not only removes wrinkles permanently, but also adds a slight volume to the lips.
Neck & Décolleté
Unfortunately, the neck and décolleté are often overlooked when it comes to skin care. However, the skin in these areas is particularly sensitive and needs regular care. With the help of our Skinbooster, we can give you new resilience and a soft, youthful glow. So you can wear what you want without worrying about visible signs of ageing!
Your hands
You can tell your age by your hands. This is not a cliché, it is the truth. We work with our hands and they are the part of the body that is always exposed to all the environmental influences. It is clear that the signs of ageing are particularly visible here. But now you have the power to do something about it. Our skin boosters can also be used on the hands to make them soft and supple again!
Menopausal and post-menopausal women
The menopause is a turbulent time with many unwanted hormonal changes. Even those with the best genetic predispositions will start to show signs of ageing. By using skin boosters, we can counteract the ageing process and give your skin lasting moisture thanks to hyaluronic acid. After the menopause, you will look radiant and younger than before!
After the summer
During the summer, our skin gets a beautiful tan. However, it is exposed to environmental influences such as salt water and UV radiation and needs a lot of care, especially after the summer. Give your skin a skin boost! This is how you care for it after the summer and prepare your skin for the winter at the same time.
As a cure for the skin
Would you simply like to do something good for your skin? Our Skinboosters are also ideal for this! They can be combined with other treatments and used as a series – just contact us!
Dry skin
Especially after the summer or during the cold winter months, our skin is exhausted. It feels dry and the typical dryness lines appear. But don't worry, our skin boosters will replenish your skin's moisture reserves!
Tired & sagging skin
Sagging and tired skin is another sign that we can treat. Juvederm is one of the latest generation of fillers. This means it is cross-linked, so it not only retains moisture, but also stays in place. This makes it easy to perform light sculpting and eliminate areas of sagging skin.
Eye circles & tight skin
Bags under the eyes, dark circles and tight skin are all signs that your skin has been exposed to stress. Fortunately, all these unsightly effects can be remedied with the help of skin boosters. Give them a try and you will be amazed!
Advantages of the treatment:
Combination with laser treatment
Skinbooster can be combined with other treatments. We like to use them in combination with laser treatments as a supporting measure to calm and regenerate the skin from within. Skinbooster can also be combined with microneedling. The thousands of fine channels created by microneedling allow the product to be distributed throughout the skin!
Series treatments
Series treatments are also possible with the Skinbooster. This means you can give your skin a rejuvenating treatment and finally give it the care it deserves. Series treatments are usually carried out at 4-8 week intervals, depending on the condition of the skin and your personal preferences.
Maintain a naturally youthful appearance
Do you want smooth, youthful looking skin without a mask effect? With our Skin Boosters, we achieve a natural rejuvenation effect without any loss of mimic or elasticity. Your friends and family will notice a change. They will be amazed, compliment you and think the best of you: They will not know where this positive change comes from!
A Skinbooster is a liquid containing hyaluronic acid that is injected into the skin using fine needles. Once there, it deeply hydrates your skin and improves its ability to regenerate. The result is natural skin rejuvenation and a lasting improvement in skin quality.
We use Skinbooster mainly in areas that need extra care and show visible signs of ageing: Face, neck, décolleté and palms. In special cases other areas can also be treated - just ask us!
You will notice a positive change immediately after the first application! It usually takes a few weeks for the effect to settle in and for the ingredients to take full effect.
As a Skinbooster is a particularly gentle and gentle method, you will be able to return to normal activities immediately after the treatment. However, you should avoid sunbathing, saunas and make-up in the first few days. We will be happy to explain more in a personal consultation - we look forward to seeing you!